Demo
Scroll down and read tips and info before clicking on red "Download Demo" Button...

&nbsp &nbsp &nbsp &nbsp &nbsp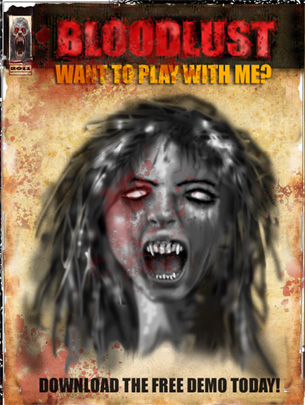 If you see something... please tell us
--------------------------------

Please send us an email if you have any comments or find any BUGS.
Email us at...
wrfstudios@aol.com
- ***MAKE SURE TO INSTALL GAME INTO DEFAULT DIRECTORY***
It's important that the directory you install to has "write" permissions or else you won't be able to save your game. (the installer should detect your personal users folder as default)

5 Gameplay Tips Before Playing
--------------------------------

1. ALL LOOT IS RANDOM - (except for necessary quest items) This game can be very hard or easy depending on what you find, which weapons you equip, and how you invest Attribute and Skill points. Of course you can always purchase items from Sarah the merchant.
2. HINT:
Turn TUTORIAL Mode ON
(BloodLust is a tricky game with traps, secrets and puzzles everywhere that can do an extensive amount of damage - tutorial mode will show you what to look for)
3. New skills become available when you earn "Reputation" with new clans (check skills section after you have completed quests)
4. There are many factors that affect other things such as how much you spend on VITALITY affects your MAX health, CHARISMA affects spells and MAX Lifeforce, etc. (too many to try and explain here but be aware that how you spend points can affect how hard or easy the game is)
5. HINT: Use "VAMPIRE GAZE" Skill to control a remote eye that can go into tight areas (where you cannot) to trigger levers and open secret doors.
If you get stuck... check out the
HINTS/HELP
section.
CONTROLS - Click on graphic below to see how to move and attack (ALL Hotkeys Listed)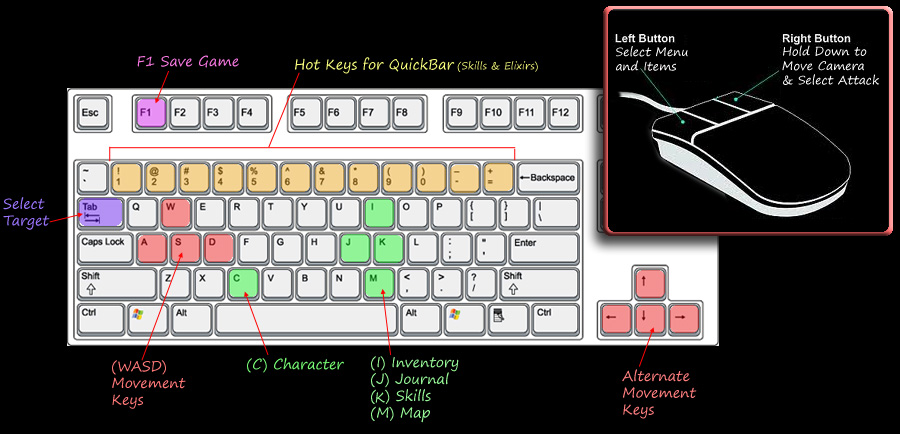 [Click on above graphic for larger view]
- HINT: Be sure to press F1 often to save game at anytime.
- PLEASE Email us at
wrfstudios@aol.com
and let us know how the game played on your system. Any suggestions, comments, etc. (If you want to become a beta tester... Please email us. Thanks!)
REQUIREMENTS:
- Windows 8, 7, XP or Vista
- Processor: any 1.8 GHz
- 2GB Ram Memory
- Nvida or ATI Video Graphics (512MB or higher)
- DirectX Soundcard
Press the Button Below to Get the Latest demo...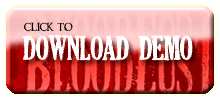 If you have any trouble downloading file please contact us immediately at
wrfstudios@aol.com
so we can fix it.
Try downloading from the button above (Always the Latest version) - If it doesn't work then try one of the links below.(NOTE: the links below may contain
OLDER
versions)
MIRROR LINK (Bloodlust-Shadowhunter.com)
MIRROR LINK (LastHalfofDarkness.com)
If Demo Doesn't Install...
If you get an error saying "Files are corrupt" -
Try Download Again
The download probably didn't complete the first time and was interrupted before it could finish downloading.

NOTE: Check the file size after downloading.... it should be around 599,816 KB (varies with new versions)
Help! Game World is all BLACK!
Update your video card drivers -
Even if you already have the latest version this can still fix the issue.
Help! Game Won't Start!
If you get a "Missing d3D_DLL" or any other dll errors can usually be fixed by re-installing DirectX (even if you have the latest version this can fix errors) - You can get it here from Microsoft's site:
DIRECTX
If re-installing DirectX didnt work and you are sure you can run other 3d type games, (such as Skyrim, Farcry3, etc.) please contact us with your system specs and any error messages.
Will it run on a Laptop?
Is it a gaming laptop? Most laptops and notebook computers use Integrated Graphics (unless it is a "Gaming Laptop")
Bloodlust Requires a Nvidia or ATI Graphics to play properly. "Gaming Laptops" should work fine. However... average Laptops with Integrated Graphics probably won't be fast enough.